We the People: Required Watching
MSP Film Society presents We the People: Required Watching, an ongoing screening series of films that speak powerfully to systemic inequality, followed by conversations with filmmakers and community leaders discussing ways we can support social justice and anti-racism efforts within our communities.
We the People: Required Watching Community Conversation guests thus far have included: Civil Rights Attorney and Activist Nekima Levy Armstrong, Filmmaker and Activist D.A. Bullock, Minneapolis City Council Member Alondra Cano, Filmmaker Deirdre Fishel, Playwright Christina Ham, Former Minneapolis Police Inspector Catherine Johnson, Theater Educator and Director Dawn Renee Jones, Attorney and Former Ramsey County Prosecutor Donald M. Lewis, screenwriter Ken Rance, Community Editor of Minnesota Spokesman-Recorder Mel Reeves, Theatre Producer and former Minneapolis City Council Member Ralph Remington, Writer and Activist Aaron Smothers, Criminal Defense Attorney F. Clayton Tyler, and Distinguished Scholar and Activist Dr. John Wright. All of these conversations can be viewed at any time on MSP Film Society's Facebook page.
This series is generously supported by the George Family Foundation and KNOCK, Inc. All We the People online discussions are generously supported by Kelly and Mike Palmer.
---
Upcoming Events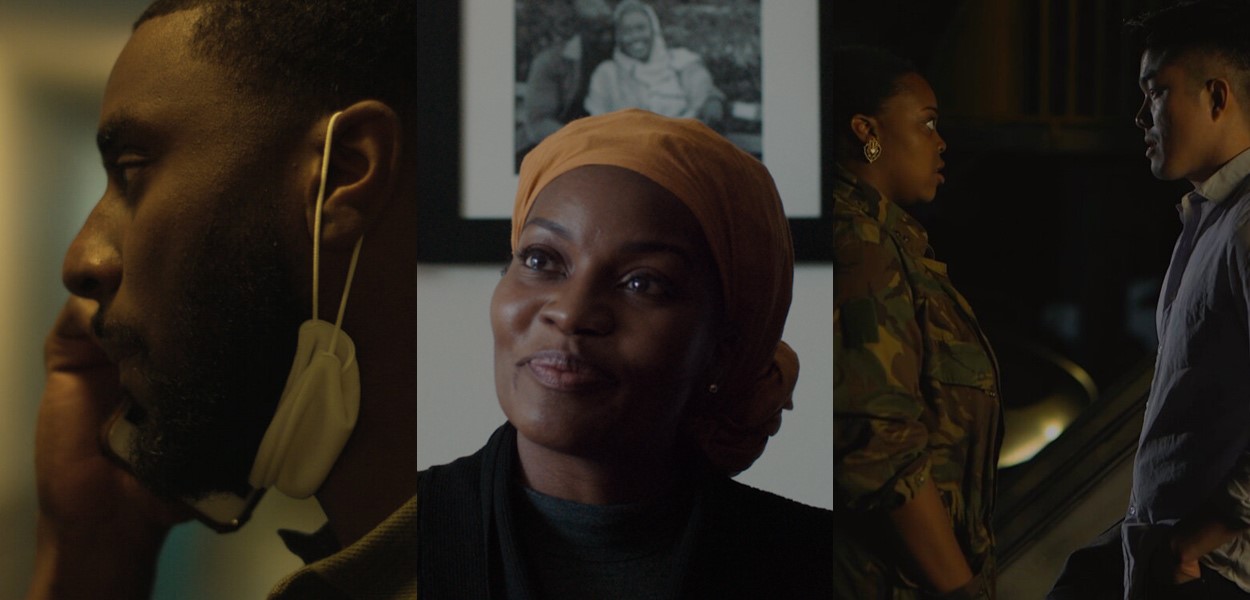 Our Right to Gaze: Black Film Identities
Shorts Collection
Screening Dates: February 14 - 28, 2021. Tickets: $9 MSP Film Members | $12 General. Reserve Tickets and Watch Here Starting February 14
Zoom Conversation: Monday, February 22 at 7:00pm. FREE.
MSP Film Programmer Craig Laurence Rice in conversation with filmmakers Kyla Sylvers (Producer, Writer - The Black Banshee), Antu Yacob (Co-Writer, Executive Producer, Lead Actress - Love in Submission), and Lande Yoosuf (Director - Love in Submission).
About Our Right to Gaze: Black Film Identities
In this collection of six shorts, filmmakers gaze at themselves and their world, attempting to make sense of what they see reflected back. From gripping drama to heart-warming comedy, Our Right to Gaze: Black Film Identities features timely stories from Black artists that take us outside of the ordinary. The program is designed to support the participating filmmakers first and foremost – structured so that they receive adequate compensation for their work.
THE BLACK BANSHEE
Directed by John D Hay, Jr. | Produced by Kyla Sylvers
Convinced by her friends and boyfriend to enjoy a night out after losing her job, Yvie begins to question her own mind when the visions she's been having start to have dangerous consequences.
LOVE IN SUBMISSION
Directed by Lande Yoosuf | Produced by Antu Yacob
Worlds collide when two different Muslim women meet each other for the first time through a mutual third party.
Watch the Conversation
Check back often for announcements of upcoming We the People programming.
---
Past Events
---
---
---
---
---
---
---
---
---
---
---
---